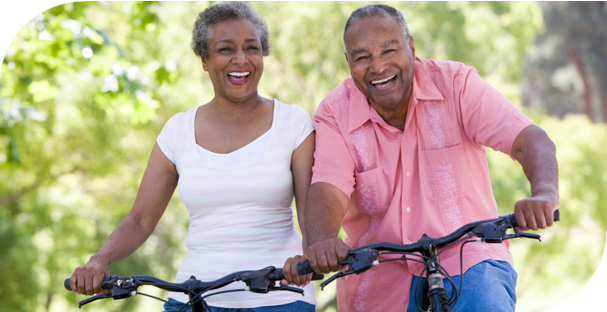 PATH - Personal Action Towards Health
PATH (Personal Action Toward Health) Program
PATH (Personal Action Towards Health) is a Chronic Disease Self-Management Program that teaches practical skills for living a healthy life with a chronic health condition like diabetes, arthritis, asthma, chronic pain, or heart disease. Classes meet for 2 1/2 hours once a week for 6 weeks.
Classes for 2015:
   • Calumet Classes:     Tues, Apr.14-May 19, 6 pm @ Senior Center Flyer
   • Marquette Classes: Tues, Apr.14-May 19, 6 pm @ Messiah Luth Church Flyer
   • Hancock Classes:   Tue, May 19-June 23, 2 pm @ Portage Health Flyer
   
For more information or to register for a PATH class in your area call:
      (906) 786-4701, Ext. 3019 or 1-800-338-7227
View:   PATH Brochure   /   MI Partners in PATH, 11 min video   /  
           Jan'13 Daily Press article - Training PATH Leaders
---

PATH - Diabetes Program
This new program is specifically for adults with Type 2 diabetes and their family and caregivers. It covers diabetes self-management topics such as healthy eating, physical activity, sick day management, foot care, medications, managing hyper- and hypo- glycemia, and working with health care providers.
Classes for 2015:
  • Negaunee Classes:   Wed, May 6-June 1, 1 pm @ Senior Center   Flyer
Free Online Program - Better Choices, Better Health ® - Diabetes workshop. Another educational option for those interested in learning more about managing diabetes. View Flyer
Register Here: www.RestartLiving/org/Diabetes
---

PATH - MS
Free class for individuals with Multiple Sclerosis and their loved ones to learn skills that help deal with everyday challenges associated with MS.
Learn to set goals, share experiences, and find supports to manage:
  • Balance          • Communication     • Healthy Eating       • Pain
  • Medications     • Staying Active     • Lack of Energy       • Stress
Classes for 2015:
   • Check back for new class listings