MI Medicare/Medicaid Assistance Program (MMAP)
---

Toll-free Helpline:   1-800-803-7174   or   Dial 2-1-1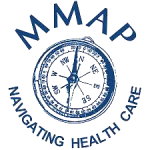 MMAP's Mission: To educate, counsel and empower Michigan's older adults and individuals with disabilities and those who serve them, so that they can make informed health benefit decisions.
What is MMAP?
MMAP (pronounced "map") is a free counseling service for Medicare and/or Medicaid beneficiaries and their caregivers.   MMAP counselors are not associated with any health insurance company and can provide you with unbiased information and assistance on public benefits and health insurance issues.
How will the Health Insurance Marketplace affect those with Medicare Coverage?   Read the: Fact Sheet.

How MMAP can help you
Call 1-800-803-7174 to be connected with a local MMAP counselor who can help you:
Identify resources for prescription drug assistance

Understand doctor bills, hospital bills, and Medicare Summary Notices

Understanding Medicaid eligibility, enrollment, coverage, claims, and appeals

Enroll in Medicare Savings Programs to help you save money. View  2013 Flyer

Review your Medicare supplemental ("Medigap") insurance needs, compare policies, and pursue claims and refunds

Explore long term care financing options - including long term care insurance

About Our Counselors
MMAP counselors are specialists trained in Medicare and Medicaid law and regulations, health insurance counseling, and relevant insurance products.   MMAP counselors are not connected with any insurance company, nor are they licensed to sell insurance.   Their purpose is to serve you objectively and confidentially.   Currently, the U.P. MMAP has over 40 highly trained and certified counselors ready to serve you in your own community.
Group Presentations
MMAP counselors also conduct public presentations on:
• Medicare         • Medicaid           • Medicare Supplemental Insurance
• Long Term Care Insurance       • Medicare Advantage Options
• Medicare/Medicaid Fraud & Abuse
and other issues of importance to beneficiaries and their families.
Call us at 1-800-803-7174 to make arrangements for your event.
Visit these sites for more information: