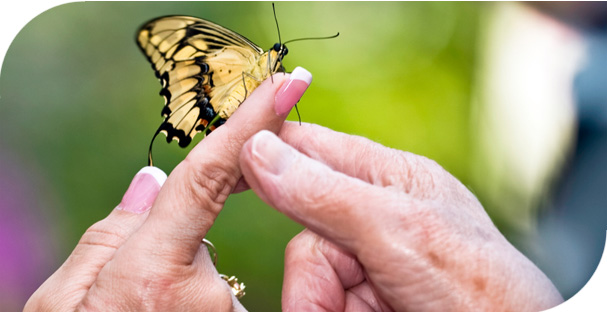 MI Long Term Care Ombudsman Program
The Michigan Long Term Care Ombudsman Program strives to improve the quality of care and quality of life experienced by residents who reside in licensed long term care facilities such as nursing homes, homes for the aged, and adult foster care homes.
Local Ombudsmen provide a community presence by routinely visiting residents in long term care facilities.   They work with individual residents to resolve problems and to promote high quality care.
Ombudsmen are skilled in the following areas:
•   Explaining resident rights
•   Empowering residents to communicate concerns
•   Assisting residents in resolving these concerns
•   Providing community education regarding long term care issues
•   Promoting the use of best practices throughout the long term care system
The Michigan Long Term Care Ombudsman Program is authorized in the Older Americans Act and the Older Michiganians Act.   The program is funded by the federal and state government, therefore, is no cost to residents or families.
Providers: Save the Date - October 15, 2014 - Best Practices Conference
---

When To Call An Ombudsman
As a resident or family member, you can call and speak with a local Ombudsman whenever you:
•   Have concerns or questions about care in a facility
•   Have questions about your rights in a long term care facility
•   Want information on alternatives to nursing home care
To reach your local Ombudsman, U.P. residents may dial " 2-1-1, " others can call 1-866-485-9393.   All calls are toll-free and staffed 24 hours a day.
---

Become a Volunteer Ombudsman
You can make a difference!
Older adults, individuals with disabilities, and family members need education, empowerment, and advocacy.   Volunteer Ombudsmen can play a critical role in fulfilling these needs.
•   Volunteers visit long term care residents, explain their rights, answer questions and report individual complaints about care and services to the local Ombudsman.
•   Volunteers will receive intensive training and gain an understanding of the complex long term care system.   These skills will then be used to promote better care and a better quality of life for residents whose lives they touch.
•   A one-year commitment is required.
For more information, please call 1-866-485-9393.
---

Useful Website Links & Resources:
Medicare's Find & Compare Nursing Homes
Medicaid & Long Term Care   2014 Guide
National Consumer Voice for Quality Long Term Care